Insumate®
REDUCES BODY FAT AND INCREASES MUSCLE FORMATION
The World Health Organization (WHO) points out that obesity is a chronic disease. Statistics from 2016 show that 1.9 billion of the population above 18 year-old is overweight while 650 million adults suffer from obesity. The reason of obesity is increasing in the intake of high calorie foods filled with fat and sugar, changes in dietary habits and sport activities. What is the most common impacts of overweight or obesity? 1. Cardiovascular disease 2. Diabetes 3. Musculoskeletal disease 4. Cancer.
Genetically defective mice prone to accumulating fat in their abdomen were given intraperitoneal injections of Insumate® at a dose of 5nmol/kg/week. After 4 consecutive weeks, it was discovered that Insumate® can effectively reduce body fat by up to 25% and promote muscle growth to prevent muscle atrophy which is common in diabetics.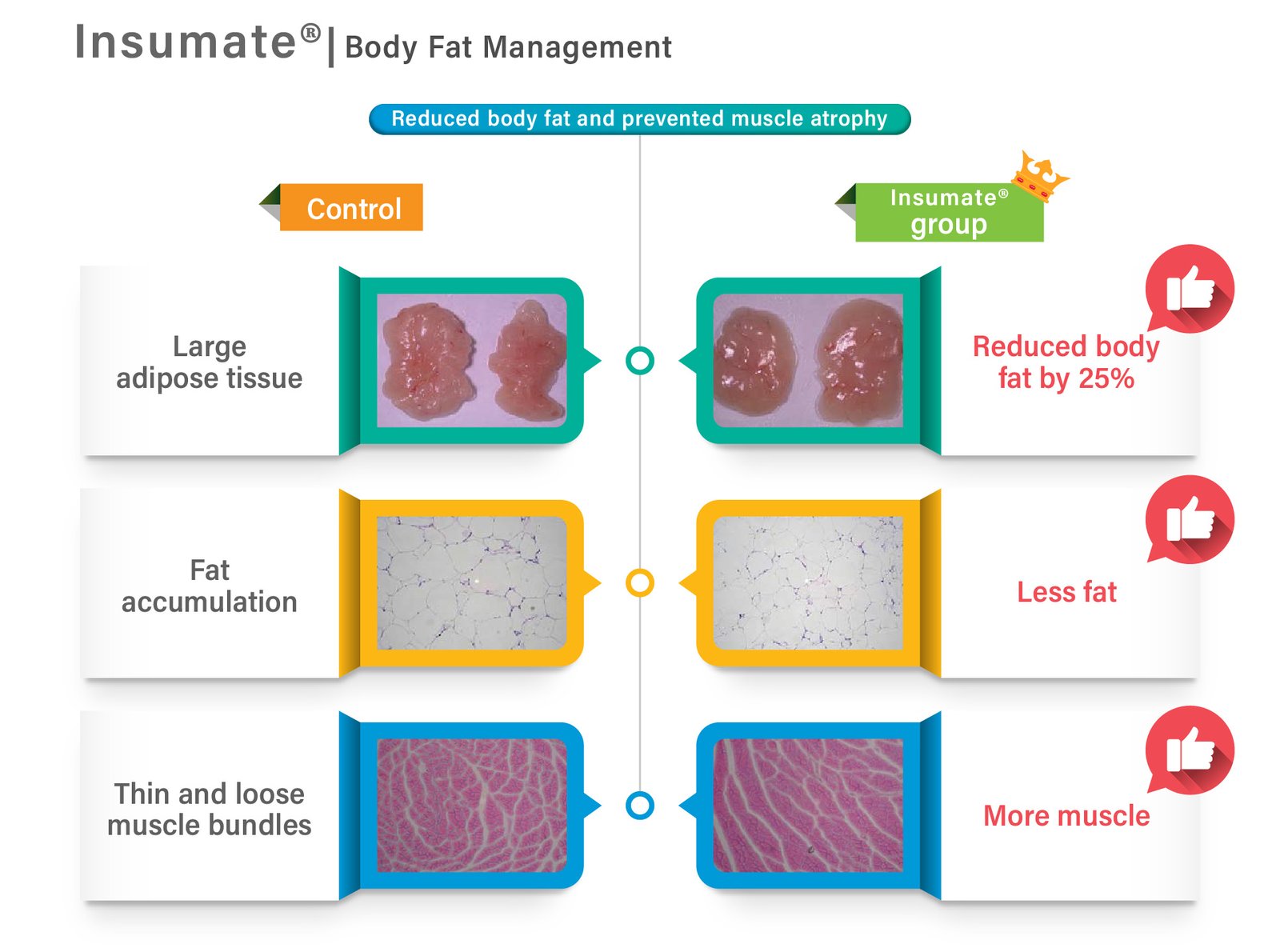 Insumate®
PREVENTING THE FORMATION OF BODY FAT AND REDUCING BLOOD LIPIDS AND BLOOD CHOLESTEROL
Diabetes and cardiovascular disease are big global health issue. Each year, 17.7 million people die from cardiovascular disease, accounting for 30% of the global death.  Diabetes is a chronic disease, but the horrible thing is the complications. Among them, diabetic patients are more likely lead to  hyperlipidemia situation than normal people, and long-term abnormal accumulation of blood lipids will cause a variety of cardiovascular diseases.
The Assessment Method for the Effect of Healthy Foods that Do Not Form Body Fat released by the Ministry of Health and Welfare was referenced for studying obesity in rodent models. Daily doses of Insumate® bitter melon peptide at 10.42 mg/kg and commercially available bitter melon extract 52.08 mg/kg (dose for large mice) were administered for 8 continuous weeks.